TrailMaster Blazer4 150cc Go-Kart 4 Seater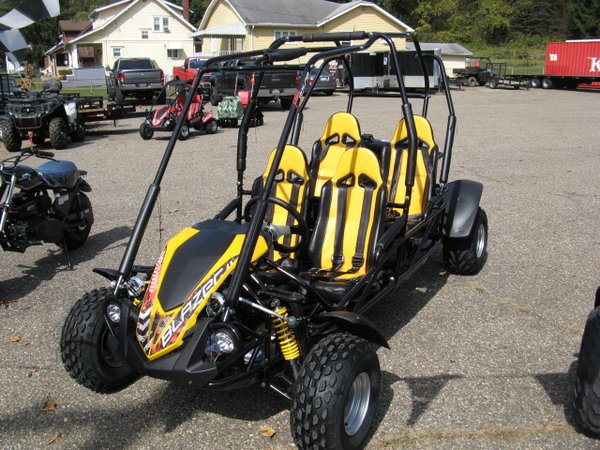 TrailMaster Blazer4 150cc Go-Kart 4 Seater
The TrailMaster Blazer4 150 is the perfect family size 4-seat go kart with a stylish design.
It is made of heavy duty frame and tubing, net weights 500lbs with a max load capacity of 661lbs! You saw it right: 661 lbs!
Gas pedal to seat back is adjustable from 34" to 39", fits driver up to 5'8 in height;
Front seat to rear seat distance is 28 inches, fits passengers up to 6'2 in height;
With all these features, this go kart should be able to fit an average family with 2 adults and 2 teenagers or kids.
Here are some of the key features:
Stylish design
Electric start with kill switch
Fully automatic with reverse, high performance GY6 engine with internal reverse set up
Heavy duty frame, net weight 500 lbs, max load 661 lbs, ultimate family size 4-seat go kart
Front seat to rear seat distance: 28 inches, fits passengers up to 6'2 in height
Adjustable driver seat: pedal to seat back adjustable from 34" to 39", fits driver up to 5'8 in height
5-Point safety harness seatbelt
Individual sporting seats
Polished stainless steel muffler
Big tires: F / R: 19 x 7-8 / 18 x 9.5-7
Bikini sunshade top
Adjustable heavy duty front and rear shock absorber
Rack and pinion steering wheel
Front and rear hydraulic disc brake
4-wheel fenders
Trailer hitch
Large gas tank
LED headlight
Horn
Padding over roll cage
Reviews