TrailMaster Super Traxx 200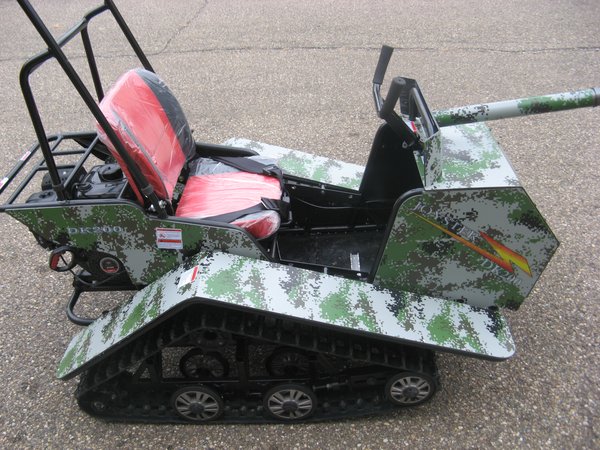 TrailMaster Super Traxx 200
Super Traxx 200!
This is a dual track, 6.5 HP, heavy duty clutch powered off-road machine. That's right, no tires and wheels.
The Super Traxx runs on two 7" wide tracks, looks like a small tank.
The Track system allows you to conquer all types of terrain from off-road riding, to snow covered hills, sand beaches and muddy fields.
Track systems are not new technology, they can be found on tanks, construction rigs and high end utility vehicles. TrailMaster is using this system to bring the consumer an affordable, easy to use, all-weather track kart.
Here is the specification for the Super Traxx 200:
Engine: Single cylinder, 4-stroke, air cooled
Displacement: 196cc
Output Power: 6.5HP/3200RPM
Start: Recoil pull start
Measurement: 59in x 35.4in x 25.6in
Weight: 286lb
Max Load: 165 lbs
Max Speed: 8.4 mile/h
Rubber Track: 90.6 x 6.7 in ,2pcs
Ground Clearance: 5.5 in
Climbing: ≤15Degree
Brake: 2 hydraulic disk brake
Riders' age: 10+, max weight of 165lbs
Reviews